Ivan Hale of Proctor (pictured) and Wyatt Luedtke of Cumberland won youth-sized kayaks from the Kootenay Lake Angler Incentive Program – Youth Derby. Both kids are avid fishers, fishing whenever they can, either by themselves or with family. Ivan says he would go out fishing everyday if he could!
More youth fishers from across Canada won prizes from the first Kootenay Lake Angler Incentive Program youth derby draw. They are currently being notified about their wins and prizes.
To participate in the next youth draw, kids must submit their rainbow or bull trout heads to one of four local depots by the end of September. 30+ age-appropriate kids' prizes, like kayaks, fishing rods and zipline adventure packets will be divided between these two youth prize draws. The next and last youth draw will be in early October.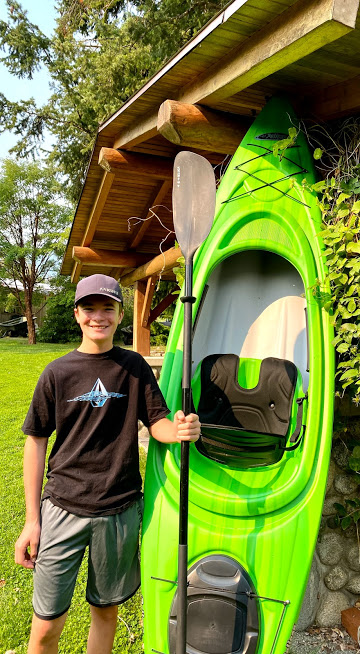 The youth derby for the Kootenay Lake Angler Incentive Program is running for the summer, encouraging kids to spend time outdoors helping local conservation efforts. By participating in the program, kids 15 and under and their families are actively contributing to local conservation efforts to protect the iconic kokanee in the main body of Kootenay Lake.
Encouraging anglers of all ages to catch and retain Kootenay Lake trout gives the juvenile kokanee a chance to grow. The rainbow and bull trout are suppressing the survival of the kokanee, the primary food source of these predators.
As well as encouraging healthy outdoor family fun and science-based conservation, the Kootenay Lake Angler Incentive Program has supported local businesses through a difficult year.
Scott Mynott, Manager of the Sports Department of Wynndel Foods & Outdoor Gear  (a local depot storing trout heads), says the Kootenay Lake Angler Incentive Program has definitely increased their business: "We're selling a lot of tackle and gear, and it's getting the younger kids out fishing. They get right into it!"
So get out and fish for dinner while helping our iconic kokanee!
The Kootenay Lake Angler Incentive Program is managed by the local West Arm Outdoors Club with support from B.C. Wildlife Federation, Freshwater Fisheries Society of BC, Habitat Conservation Trust Foundation, Ministry of Forests, Lands, Natural Resource Operations and Rural Development (FLNORD), Jones Boys Boats of Woodbury Creek and several local merchants from around Kootenay Lake.
Click here for more information on the Kootenay Lake Angler Incentive Program.