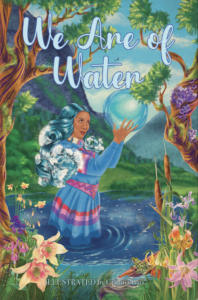 We Are of Water: A Graphic Novel by Chenoa Gao 
Illustrator Chenoa Gao has spent the past two years listening to the stories of First Nations Elders through her work as the Conservation Illustrator for the B.C. Wildlife Federation's Wetlands Workforce.  
Today, we announce the result of that dedicated work with the launch of her graphic novel We Are of Water to celebrate the first day of National Indigenous History Month. 
"We Are of Water spreads a powerful message about the role we all play in protecting, conserving and restoring fish, wildlife and habitat," said Jesse Zeman, BCWF Executive Director "I am incredibly proud of the amazing work that the Wetlands Workforce has done working with First Nations partners to restore and enhance habitat across the province.  Chenoa has done an excellent job bringing our partners' stories and values to life through her illustrations." 
For the past two years, the B.C. Wildlife Federation's Wetlands Workforce has collaborated with First Nation communities as part of a series of restoration and enhancement projects touching every region of British Columbia, funded by the Healthy Watersheds Initiative (HWI). 
By building relationships with local First Nations, listening to their Elders, and incorporating Indigenous knowledge into restoration projects, the Wetlands Workforce has created projects that echo the ancient voices of this land. Chenoa Gao was brought onto the team to collect and share the stories and narratives of First Nations Elders, youth, and community members through a series of graphics, to celebrate and reflect the communities that supported wetland restoration work and to encourage and support reconciliation. 
"In the last few years, we've had the fortune to hear from a multitude of Indigenous Elders and leaders about why watersheds and wetlands are so significant to their communities with a richness of perspectives," said BCWF Director of Conservation Stewardship, Neil Fletcher. "Their voices were so powerful, and with their permission, we wanted to elevate their voices for others to experience, and as a gift back to their communities. We're honoured to have been part of the project."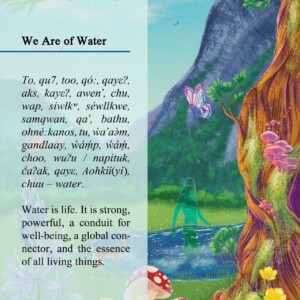 More About We Are of Water 
Early in her tenure with the Wetlands Workforce team, Chenoa was inspired to honour and curate the voices and messages of Indigenous community members. This idea evolved into the creation of the graphic novel We Are of Water through a collaboration with the HWI. This partnership allowed her to incorporate additional voices and perspectives from Elders and youth involved in various HWI projects, resulting in a diverse and comprehensive narrative.  
We Are of Water offers a visual representation of the knowledge and wisdom shared by Indigenous Elders, youth, and community members involved in the Healthy Watersheds Initiative (HWI). Gao's remarkable illustrations bring to life 14 deeply personal stories that transport readers on an intimate journey to the territories of Indigenous HWI participants. 
Through Chenoa's mesmerizing illustrations and the intimate narratives in We Are of Water, readers can gain insight into the profound connection between Indigenous peoples and water. By exploring the significance of watersheds and water, the overarching goal of We Are of Water is to create a platform that amplifies Indigenous voices, fostering a deeper understanding of their experiences and perspectives. It also serves as a bridge between generations, promoting the exchange of wisdom and encouraging young people to become stewards of water and the environment. 
According to Chenoa, 
"Turning the Elder and youth voices into comics has been a transformative experience, allowing me to see my role as an artist and environmentalist. Sharing their stories and giving them life is so important, and I hope it inspires young people the way it has inspired me. I want to give back this feeling I have been given to the youth and those struggling with their own purpose and cultural identity."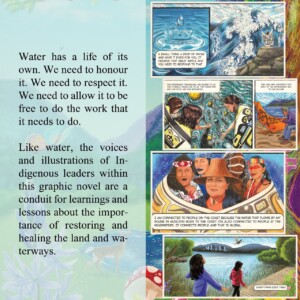 The Healthy Watersheds Initiative Project Details 
The Healthy Watersheds Initiative (HWI) is a $27-million program supported with funding from the Province of BC to stimulate economic recovery through investments in community-driven watershed conservation and restoration projects. Through this program, the Real Estate Foundation of BC (REFBC), in partnership with Watersheds BC, administered grants for 61 projects – one of which being the BC Wildlife Federation's Wetlands Workforce. 
Alongside the HWI, we'd like to thank the Elders, youth, and community members who lent their voices and stories for us to share in "We Are of Water." 
Furthermore, as stated by the HWI, "We respect that their voices were offered so their stories, knowledge, and watershed projects could be shared with the broader community. We recognize these stories are just a small piece of a much deeper narrative, history, and knowledge. We hope they will serve as a spark to one's curiosity to connect with the land and water and learn more about this land's history and those who have stewarded it since time immemorial."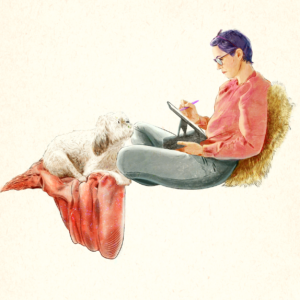 The graphic novel is now available to download through the Healthy Watersheds Initiative. A limited run of 1000 physical copies gifted to participating First Nations Committees and others who supported the project are to be released this month. 
Read more about Chenoa and the entire project and download your copy of We Are of Water!