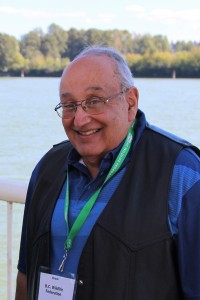 The B.C. Wildlife Federation is saddened to report that President Chuck Zuckerman passed away suddenly last week at the age of 73. 
A BCWF member since 1977, Chuck was just weeks away from closing out a two-year term as President and had previously served as the Federation's Vice President, President of the Lower Mainland Region, and the Chair of the Recreational Shooting Sports Committee. Chuck served as the President of the POCO Hunting and Fishing Club for 13 years and spent more than 40 years actively supporting conservation. 
He conveyed his goals succinctly: "Put more animals on the landscape, more fish in the waters, and more birds in the sky."  
He was an avid hunter and firearms safety specialist. Chuck was an instructor at Simon Fraser University and developed safety training programs in his forty years as a longshore worker. He also taught prerequisite courses for the firearms Possession and Acquisition License (PAL) and the Conservation Outdoor Recreation Education (CORE) program for new hunters. 
Chuck has been hunting since he was 10 years old and has passed down this way of life to his children, grandchildren, and generations of British Columbians. 
He will be remembered fondly by the Federation's executives, members, and staff. 
"Chuck always had a story to tell from his life experiences which included growing up in the Bronx, which was a concrete jungle, then moving out to British Columbia," said BCWF Executive Director Jesse Zeman. "He was an avid reader and history enthusiast.  His knowledge of the BCWF's history, bylaws and constitution was unmatched as was his passion for the BCWF, and British Columbia's fish and wildlife." 
"Chuck was a man of integrity who believed in the Federation and what it stood for," said BCWF Vice-President David Lewis. "He led by example, he was a great teacher, a mentor and a friend to many. He was never at a loss for words and loved to share a story or two." 
"Chuck was one of the most dedicated individuals to our cause that I have met over the years," said BCWF Vice-President Mark McDonald. "He will be missed by all and may his hard work, dedication and legacy leave a long-lasting impact." 
In his final statement as President, Chuck reflected on his accomplishments and voiced real optimism for the future. 
"As my term ends, I look back on my work with pride," he wrote. "I participated in over 40 webinars, attended more than 170 meetings, and met with 65 MLAs, MPs, and government officials. I presented to the Provincial Standing Committee for the Budget, to the Provincial Firearms Safety Legislative Committee, and to the Provincial and Federal Outdoors and Firearms Caucuses. I flew to Ottawa represent the BCWF to the Canadian Wildlife Federation and organized national opposition to amendments to Bill C-21. I met with MLAs and MPs of all parties concerning budgets, resource management, and firearms." 
"The Executive, Board of Directions, Regional Presidents, and Committee Chairs of the B.C. Wildlife Federation are working every day to ensure that our members, our families, our friends, and future generations can continue to enjoy the outdoors, and eat wild, sustainable food. I call upon you, our members, to continue to raise your voices for conservation." 
In lieu of flowers, his family requests that donations be made to BCWF Youth Programs.