The Kootenay Lake Angler Incentive Program (KLAIP) is a local fish restoration initiative with monthly $1000 prizes and grand prize draws for Kootenay Lake fishers catching predatory trout in the main body of the lake.
The next grand prize draw for a Polaris Sportsman Quad and the 3-night-stay for 2 at Coastal Springs Float Lodge will be early November. Rainbow or Bull Trout heads must be submitted by October 31 to be eligible. 
In spring 2022, there will be another grand prize draw for a 2021 Marlon boat package with outboard and trailer.
Monthly $1000 prize draws for KLAIP are planned to continue until May 2022.
The KLAIP encourages anglers to get out fishing to help reduce the over-abundant Rainbow and Bull Trout, promoting a healthier balance between the endangered prey fish, kokanee, and their predators, the trout. Anglers are encouraged to harvest Rainbow and Bull Trout in the main body of Kootenay Lake and then turn in the heads to one of four depots to enter monthly draws for prizes worth $1,000, and the final grand prize draws.  
For September, Kale Stanchuk of Trail won the $1000 monthly prize draw. Kale recently bought a boat from Jones Boys, one of the local businesses supporting the KLAIP. He plans to use the two certificates to kit out his new boat.
Several local kids also won great prizes in the October kids' derby draw. Kids submitted trout heads that they caught on the main body of Kootenay Lake and were eligible to win Pelican Magna kayaks, Kokanee Mountain Zipline Tour packages, or fishing equipment.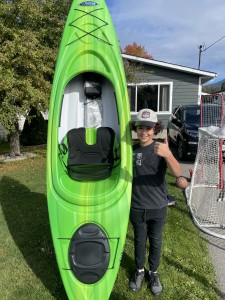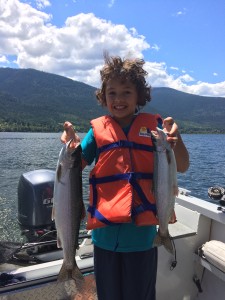 Ty Walker of Fruitvale (pictured), who fishes with his grandfather, won a kid-sized kayak. Lemon Wyttig of Wynndel also won a kayak. Other winning kids are currently being contacted.
The reason for the KLAIP is to support the main Kootenay Lake fishery's return to a healthier predator-prey balance. In 2018, Gerrard Rainbow and Bull Trout (predator) populations had increased so much their predation had forced kokanee (prey) to near extinction; consequently, the predators have decreased in size and condition significantly.  
After nearly one and a half years managing the KLAIP, Grunerud says: "Based on early returns of kokanee to the spawning channel, it is apparent that the KLAIP alone is not reducing the predator species enough to allow the kokanee numbers to increase. The WAOC has appealed to the FLNRORD Ministry to be more proactive and utilize the many science-based options available to correct the predator-prey balance. The KLAIP helps, but relying on reducing the predator population with a fishing rod is only part of the solution in such a large lake." 
The Kootenay Lake Angler Incentive Program is managed by the local West Arm Outdoors Club with support from B.C. Wildlife Federation, Freshwater Fisheries Society of BC, Habitat Conservation Trust Foundation, Ministry of Forests, Lands, Natural Resource Operations and Rural Development (FLNORD), Jones Boys Boats of Woodbury Creek and several local merchants from around Kootenay Lake.
More information on the Kootenay Lake Angler Incentive Program: https://bcwf.bc.ca/kootenay-lake-angler-incentive-program/