First Nations illustrator and author Chenoa Gao presented her graphic novel We Are of Water to students in three B.C. elementary schools in observance of National Truth and Reconciliation Day. 
The richly illustrated story is the culmination of two years of interviews with First Nations people about their cultural and historical relationship with watersheds and wetlands. 
Gao joined the B.C. Wildlife Federation Wetlands Workforce to collect and share the stories of First Nations Elders, youth, and community members through a series of graphics, to celebrate and reflect the communities that supported wetland restoration work and to encourage and support reconciliation.
"As we were putting the graphic novel together, we thought it would be great to have it in the B.C. school curriculum," said Gao, a member of the Muskeg Lake Cree Nation of Metis descent. 
Wetlands Workforce Indigenous Liaison Diana Cote helped pitch the project to the Rocky Mountain School District. 
At the invitation of district, Gao presented the book to teachers on a professional development day and shared ideas about its potential as a teaching resource tool in the classroom.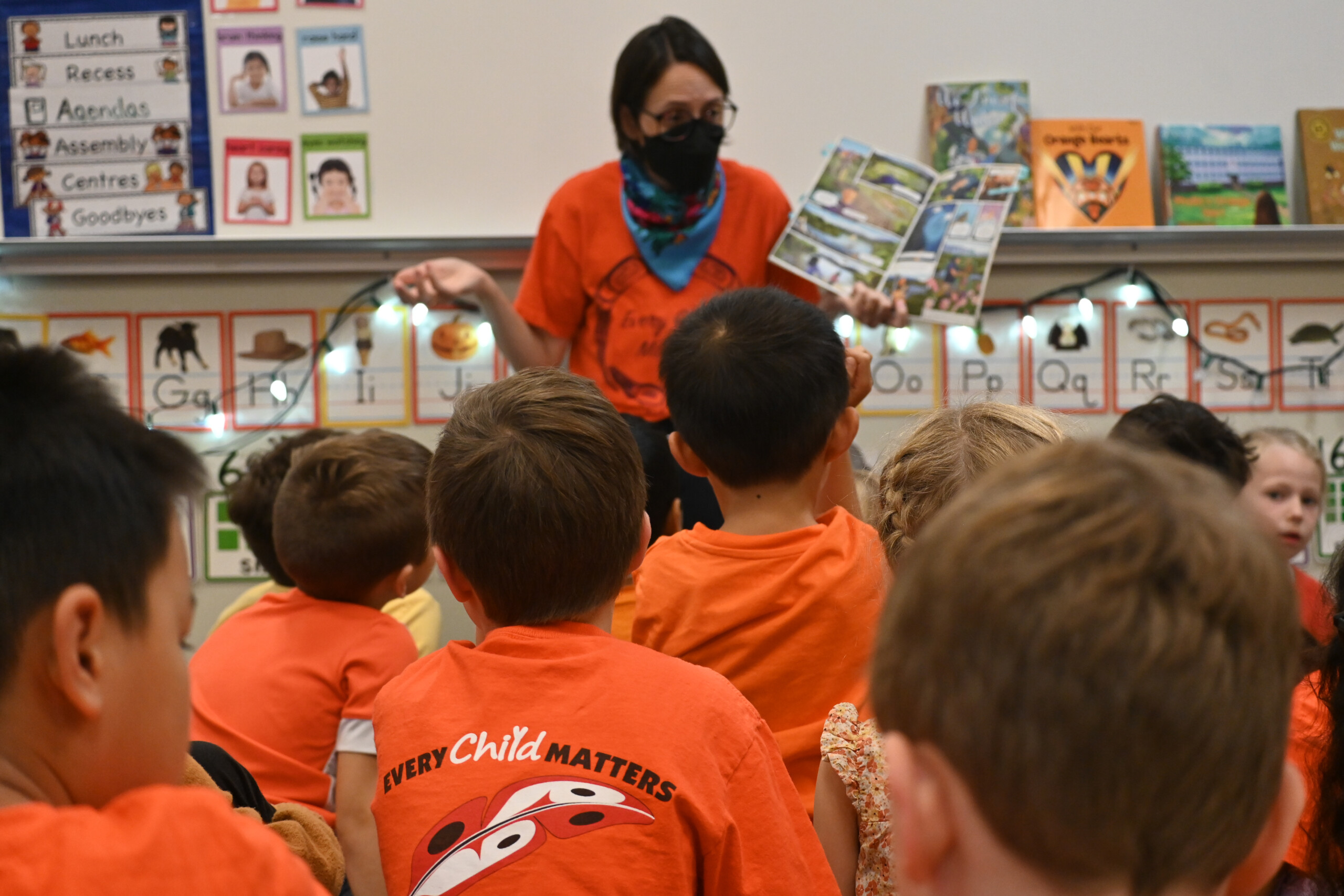 "We had a couple of teachers volunteer to present the graphic novel to their class," she said. "They had the students go through it and collected their responses and some of their questions about traditional water and land use management and about First Nations people." 
The kids had lots of questions.  
"What would happen if they didn't have any water? How does this relate back to First Nations autonomy over culture and language and traditional hunting practices? All of these things." 
BCWF Director of Conservation Stewardship, Neil Fletcher and Gao shopped the idea of presenting the book to students at their children's schools as part of Truth and Reconciliation Day and the schools were receptive. 
In the week leading up to National Truth and Reconciliaiotn Day, Gao engaged with classes at QayQayt Elementary in New Westminster, Serpentine Heights Elementary in Surrey, and Elsie Roy Elementary in Vancouver. 
"I talk to the kids about my indigenous history, assimilation, and colonization," she explained. "I talk to them about my work at the BCWF Conservation Stewardship Program and the Wetlands Workforce and how the graphic novel came to be." 
"At the end, I show them how to create their own comic page with layout and text, and the theme of the comic will be based on their personal relationship to water or nature," she said. 
A few First Nations students felt inspired to reach out for help connecting with their heritage. 
"First Nations students who don't have a real connection to their culture, because of colonization practices or assimilation or that they're in adopted homes were intrigued," she said. "They felt like, for the first time, they felt seen, for the first time they felt heard, and for the first time, they felt like, wow, this is a part of my culture." 
We Are of Water is a joint project made possible with funding from the Healthy Watersheds Initiative and the Real Estate Foundation of B.C. 
Chenoa was inspired to honour and curate the voices and messages of Indigenous community members. That idea evolved into the creation of the graphic novel We Are of Water through a collaboration with the HWI. This partnership allowed her to incorporate additional voices and perspectives, resulting in a diverse and comprehensive narrative.   
We Are of Water offers a visual representation of the knowledge and wisdom shared by Indigenous Elders, youth, and community members involved in the Healthy Watersheds Initiative.
"In the last few years, we've had the fortune to hear from a multitude of Indigenous Elders and leaders about why watersheds and wetlands are so significant to their communities with a richness of perspectives," said Fletcher. "Their voices were so powerful, and with their permission, we wanted to elevate their voices for others to experience, and as a gift back to their communities. The B.C. Wildlife Federation is honoured to be part of the project."   
You can download We are of Water at https://healthywatersheds.ca/news/we-are-of-water/