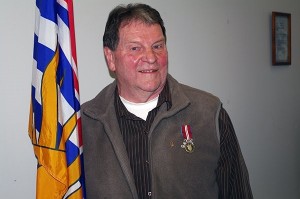 The B.C. Wildlife Federation (BCWF) is saddened to hear of the passing of one of our Past Presidents, Carmen Purdy.
Carmen's passion for wildlife spanned decades, as did his advocacy on wildlife's behalf. Carmen was as comfortable cooking pancakes at a church function or calling up a government official to prompt action as he was in the bush trapping, hunting bears, bugling elk or gobbling turkeys. His passion for wildlife was passed down to his children and grandchildren, whom he often spoke of.
Carmen became President of the BCWF in 1983 and during his terms on the executive he played a prominent role in establishing the BC Conservation Foundation. Carmen, along with Rod Silver from the BC Government, was also instrumental in the formation of the then called Habitat Conservation Trust Fund. These two organizations continue to funnel millions of dollars into wildlife conservation, including many critical land purchases. In 2006, Carmen was honoured by receiving the Barsby Trophy as the BCWF's Conservationist of the Year. In addition to his conservation achievements, Carmen was a champion for resident hunters.
Carmen was one of the most well known advocates for wildlife matters in BCWF Region 4, the Kootenays, and he recognized the importance of this region becoming a strong member of the BCWF. He worked with Rod and Gun Clubs and re-established the BCWF's regional affiliate in the East Kootenays — the East Kootenay Wildlife Association. (EKWA)  The EKWA became a strong and well-known organization within the B.C. Wildlife Federation and Carmen colourfully termed this group the "East Kootenay Mafia" when they attended annual BCWF Conventions. Carmen's dedication to his strong beliefs in all wildlife matters influenced other East Kootenay Rod and Gun Club members Dave White, Ivar Larson and George Wilson to serve as BCWF presidents. Through Carmen's work within the EKWA he established the Kootenay Wildlife Heritage Fund, which is still functioning today as a charity that supports wildlife conservation efforts.
Carmen's bigger than life presence in wildlife conservation will truly be missed.