The kids' fishing derby for the Kootenay Lake Angler Incentive Program (KLAIP) is wrapping up on September 30th (draw in early October). To win one of several age-appropriate prizes, including kayaks, zip line packages or fishing tackle, kids under 15 can submit Rainbow or Bull trout heads from the main body of Kootenay Lake to one of four local depots by Sept. 30.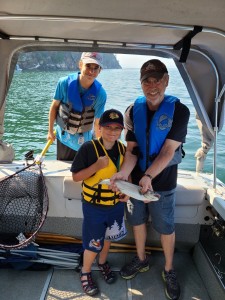 In the first kids's draw, several young anglers won. Ivan Hale of Proctor recommends that other kids join the derby because the prizes are really good. Mark and Aren Cej of Calgary also won youth prizes in the first draw and are pictured fishing with their grandfather. The Kootenay Lake Angler Incentive Program kids' derby has been running through the summer with two draws and many great prizes. 
Gordie Grunerud, President of the West Arm Outdoors Club (WAOC), the local club managing the KLAIP, says: "It has been nice to see families out on the lake, enjoying the recreational fishery. I'm sure a seed has been sown for a lifelong participation in the sport." 
The KLAIP derby for anglers is ongoing with a grand prize draw coming up.
The reason for the KLAIP is to support the main Kootenay Lake fishery's return to a healthier predator-prey balance. In 2018, Gerrard Rainbow and Bull trout (predator) populations had increased so much their predation had forced kokanee (prey) to near extinction; consequently, the predators have decreased in size and condition significantly.
The Kootenay Lake Angler Incentive Program encourages anglers to get out fishing to help reduce the over-abundant predators, promoting a healthier balance between kokanee and Rainbow and Bull trout. Anglers are encouraged to harvest Rainbow and Bull trout in the main body of Kootenay Lake and then turn in the heads to local depots to enter a monthly draw for a prize worth $1,000, and a final grand prize draw.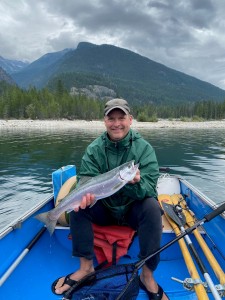 In August, David Osbaldeston (pictured) of Alberta won the $1000 prize draw. David has been fishing his whole life. In his 20s, he and his future wife fell in love with the whole Kootenay Lake region, coming back every year for the last 30 years. David says: "Kootenay Lake is wonderful for giving anglers opportunities to try new things."
However, after nearly one and a half years managing the KLAIP, Grunerud says: "Based on early returns of kokanee to the spawning channel, it is apparent that the KLAIP alone is not reducing the predator species enough to allow the kokanee numbers to increase. The WAOC has appealed to the FLNRORD Ministry to be more proactive and utilize the many science-based options available to correct the predator-prey balance. The KLAIP helps but relying on reducing the predator population with a fishing rod is only part of the solution in such a large lake."
The Kootenay Lake Angler Incentive Program is managed by the local West Arm Outdoors Club with support from B.C. Wildlife Federation, Freshwater Fisheries Society of BC, Habitat Conservation Trust Foundation, Ministry of Forests, Lands, Natural Resource Operations and Rural Development (FLNORD), Jones Boys Boats of Woodbury Creek and several local merchants from around Kootenay Lake. More information on the Kootenay Lake Angler Incentive Program: https://bcwf.bc.ca/kootenay-lake-angler-incentive-program/