Nearly two dozen lakes across British Columbia are getting major accessibility upgrades as BCWF works to make outdoor recreation available for all British Columbians.  
One in seven British Columbians has a disability, so inaccessible trails, lakes, and recreation areas can deter passionate outdoorspeople from doing what they love. Mike Stiles is a volunteer organizer for BCWF's Fishing Forever program, which teaches people with disabilities how to fish. He shares his experience as a fisher with a disability, and the challenges encountered with inaccessible spaces. 
"I grew up in Alberta and was always outdoors, I developed quite a passion for fishing and it was something I could not spend enough time doing. I now have two girls who love to go fishing as well and finding accessible spots or docks is always a challenge," Stiles explained. "I recently saw a dock that looked accessible, so I packed up my girls to go fishing there. When I got there though I was sadly disappointed because I was not able to manage the trail to the accessible dock."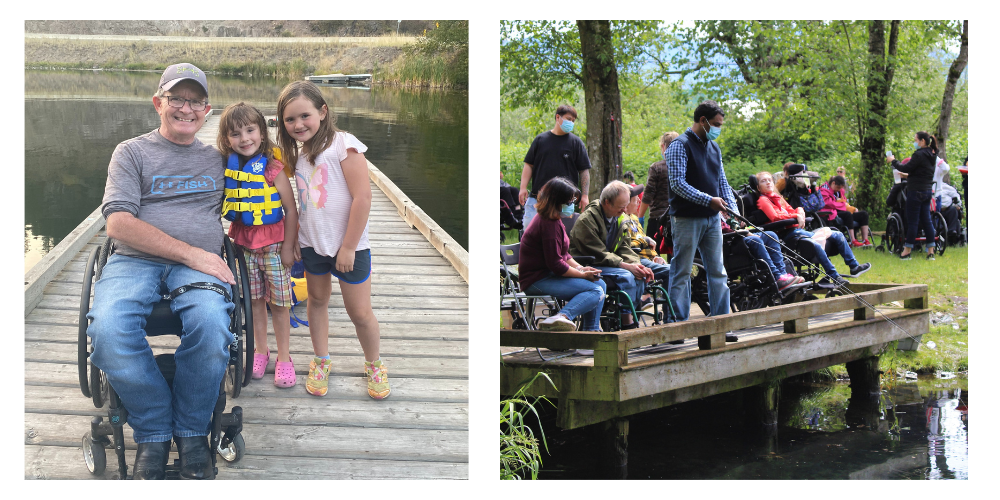 Left – Mike Stiles with his family on a fishing dock. Right – photo from a Fishing Forever event in 2022. 
To date, 23 lakes have been improved for accessibility through the BCWF's Dock Accessibility Project, made possible with $633,700 in funding from the Community Infrastructure Program, Columbia Basin Trust, and Freshwater Fisheries Society. With the funding, five new docks have been installed, five lake trails have been upgraded to be wheelchair accessible, 17 transition plates were installed at existing docks, and two washroom facilities have been made accessible.  
Insight from outdoorspeople with disabilities has helped make this project a success. Stiles emphasizes that in accessibility upgrade projects, "it may be helpful … to have the assistance of someone with lived experience to make sure all accessibility issues are addressed."  
Potential impediments raised by the disability community range from trail width, grade and terrain to a lack of assistive equipment needed to navigate outdoor spaces.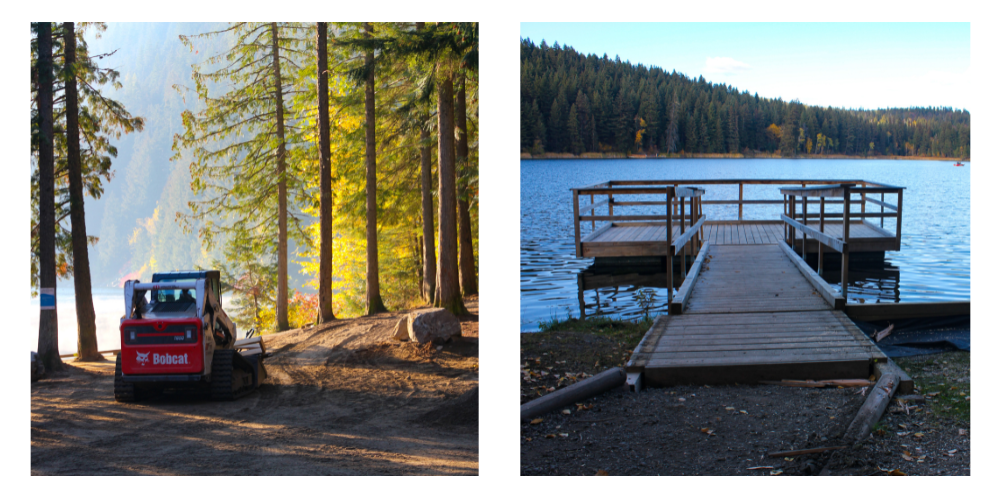 Left – A trail near a lake receives accessibility upgrades. Right – An inaccessible dock due to receive an upgrade through this project. 
For people with disabilities, low-impact, affordable activities like fishing offer outdoor experiences and benefits that abled-bodied individuals may take for granted. People with disabilities, often unemployed or underemployed, often manage additional costs stemming from their physical challenges, Stiles said. 
"Having access to a fishing dock that is accessible, allowing a person with a disability to go fishing is one of the cheapest activities a person can participate in," said Stiles. "Fishing can also be very empowering, because it does not matter your age, gender or even if you have a significant disability, everyone can participate together."  
Dock accessibility upgrades are only the first step in making the outdoors accessible for all. Through programs like Fishing Forever, it is BCWF's hope that we can collaborate with recreationalists with disabilities to make the outdoors a space that everyone can enjoy, regardless of their abilities.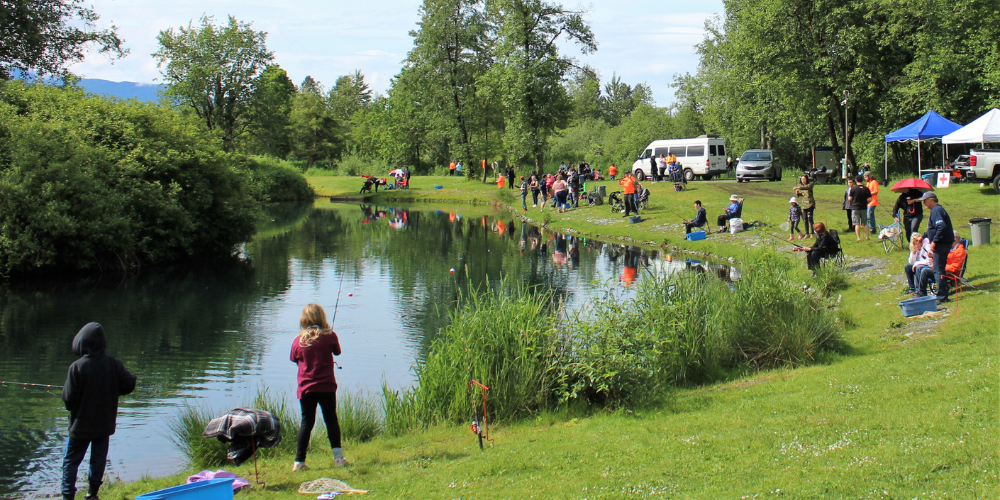 Fishing Forever event brings together the community for a day of fun at the pond. 
"As a disability advocate, I see things in towns and cities that are not accessible and know there is a lot of work to make them accessible," concluded Stiles, "I know making outdoor spaces accessible is more challenging and appreciate all the work that the B.C. Wildlife Federation and others are doing to make docks around the Province of B.C. accessible. Having access to outdoor spaces can have a huge impact on a person and their family's lives." 
Consider donating to BCWF today to fund projects and programs like Fishing Forever and the Dock Accessibility project and make a difference in the lives of British Columbians of all abilities.