Today, June 21st, is National Indigenous Peoples Day. Today and every day, we celebrate the cultures and contributions that Indigenous peoples have made to Canada. This day is also an opportunity for all peoples living in Canada to learn about the country's history and to celebrate the country's diversity. The B.C. Wildlife Federation acknowledges that reconciliation is an ongoing and lifelong process; we strive to work towards reconciliation and continued Indigenous engagement through our projects and workshops.  
"The idea for a nationwide day to celebrate Indigenous culture and contributions was first proposed in 1982, by the Assembly of First Nations, formerly the National Indian Brotherhood. The first National Aboriginal Day was proclaimed by Roméo LeBlanc, Canada's governor general in 1996 following consultation with First Nations, Inuit and Métis leaders. The Canadian Constitution recognizes these three groups as the Indigenous Peoples.  
I encourage you to acknowledge and learn about the Traditional territories that you live and play on. Go to an Indigenous Day Celebration, learn an Indigenous word, attend a Powwow, take a moment to learn of the community closest to you. Open the United Nation Declaration of Indigenous peoples and have a read. Take a moment to recognize our cultural richness our history of our people and the land and all things that live and breathe on Mother Earth." 
-Diana Cote, Indigenous Liaison for B.C. Wildlife Federation  
This Indigenous Peoples Day, we would like to spotlight the incredible work done by Indigenous communities and individuals connected to the BCWF. We are honoured to work and collaborate with such impactful individuals working towards conserving B.C.'s wildlife, fish and habitat.  
Restoration Spotlight: Yaqan Nukiy Wetland Project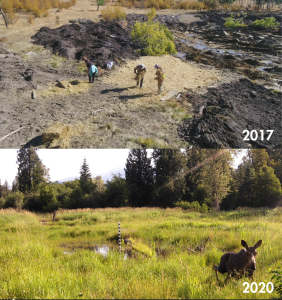 Over the last five years, B.C. Wildlife Federation has been working in partnership on a large restoration project led by the Lower Kootenay Band on traditional Yaqan Nukiy territory. Working to restore a natural ephemeral wetland heavily impacted by livestock, this site is essential for waterfowl, elk, moose, grizzly bear, mule deer, and many species at risk. The site is also important for many cultural practices, such as hunting, gathering medicines and introducing Indigenous youth to wetlands.  This past spring, tours for Elders were provided to both Shuswap and Yaqan Nukiy First Nations communities, whose traditional territory overlaps with the site. This tour provided an opportunity for the Lower Kootenay Band Community Planner, Norm Allard, to develop stronger relationships and incorporate the traditional knowledge of the community for improved engagement and involvement of projects going further.  

Taking everybody's view on the project and turning it into a holistic restoration, that benefits everything across the board has been one huge puzzle to put together 
-Norm Allard, Lower Kootenay Band Community Planner
Although the name of the wetland was originally referred to as Hyppo Landing, a term that is used for the site's use as an informal logging operation, it has been proposed to be changed following the engagement with local Indigenous community members in 2022. The site is now being recommended for a new Indigenous name, and when renamed will receive a naming ceremony as well.  
Since the restoration began in 2017, the site has seen a great improvement in its biodiversity and ability to support local animal species. The BCWF looks forward to fostering ongoing relationships with the Indigenous communities in order to support habitat restoration and stewardship work. BCWF was proud to support this project by providing an on-site crew in 2021 through the Wetlands Workforce, and has provided ongoing maintenance and monitoring support throughout the project's length from the BCWF's Wetlands Education Program.
Learn more about the Yaqan Nukiy restoration project here.
Learning from Knowledge Keepers
Our strength comes from the land. Our Wetlands Workforce were honoured to work alongside our Indigenous Elders, Youth and Community Members in support of Wetlands across British Columbia. Gaining momentum as we, Indigenous Peoples, have known for centuries that wetlands hold life in its hands. The voices of our Knowledge Keepers were heard, in a good way, to ensure the protection of our Wetlands
-Diana Cote, Indigenous Advisor for Wetlands Workforce & BCWF
The following illustrative comics were created by Chenoa Gao, Muskeg Lake Cree Nation member & Conservation Illustrator for the Wetlands Workforce. The comics, which illustrate Indigenous Elders' narratives, were gifted from the Wetlands Workforce to the Elders' communities. The featured comics below tell the narratives of two Knowledge Keepers our Wetlands Workforce had the pleasure and honour to meet and learn from: June Johnson, of Wei Wei Kai First Nations, and Faron Hambler, of Kelly Lake Cree Nation.
The Wetlands Workforce engages with Indigenous communities before, during, and after a wetland restoration project, speaking with Elders about what is important on the land, getting insights into traditional plant and land use, learning the historical importance of the land, and bringing Youth to engage with Elders. Chenoa is illustrating Elders' stories as gifts back to their respective communities. You can find more of Chenoa's art at onedove.ca.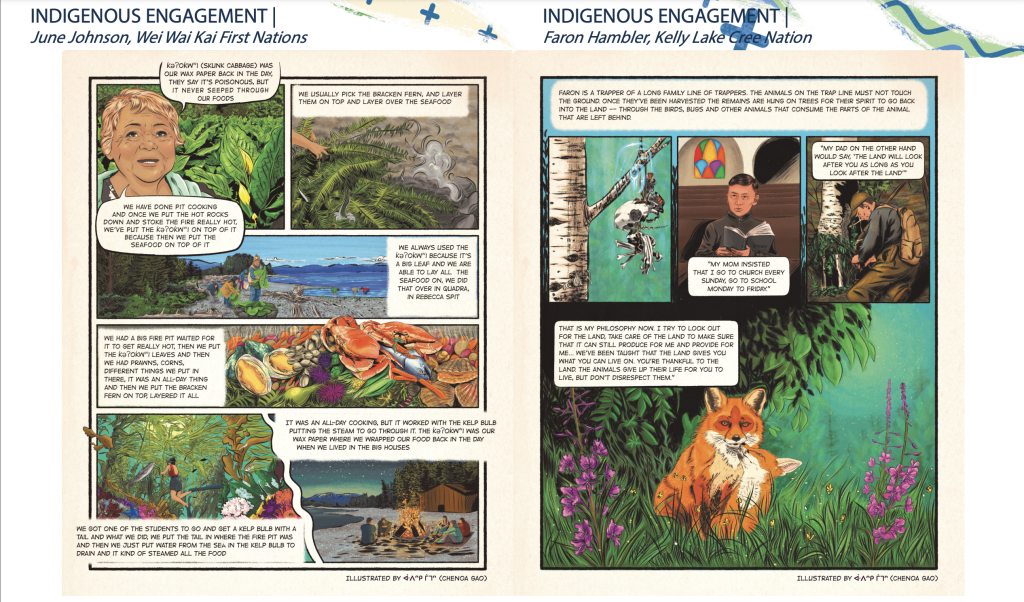 Acknowledgements
We would like to acknowledge and thank the funders of the Yaqan Nukiy restoration project, the Healthy Watersheds Initiative, Aboriginal Fund for Species at Risk, and Fish and Wildlife Compensation Program. We would also like to thank the Wetlands Workforce funders, the Healthy Watersheds Initiative and Real Estate B.C.
Header image illustrated by Chenoa Goa. Opening Prayer on header image created by Elder Louie Basil Stevens of Shuswap Indian Band. Thank you immensely for granting us permission to use this image and prayer!
Thank you to June Johnson and the Wei Wei Kai First Nations, as well as Faron Hambler and the Kelly Lake Cree Nation, for giving us permission to share your narrative and gifted comic.