Growing up, Kendall McLaughlin didn't want to be a conservationist. They didn't spend much time outdoors as a child, but in university they were introduced to the natural world and fell in love with it. From that moment forward, Kendall was dedicated to protecting, conserving and restoring wild spaces. 
Kendall began their conservation journey at the University of British Columbia (UBC), where they received a Bachelor's degree in Natural Resources Conservation from the Faculty of Forestry. After graduation, they focused their efforts on volunteering for various non-profits conducting wildlife surveys and later joined the Canadian Conservation Corps (CCC). During their CCC tenure, they interned with the B.C. Wildlife Federation (BCWF) and supported the early phases of a province-wide watershed restoration project, now known as the Wetlands Workforce.  
"I never had any background in wetlands, it was just not a focus in my classes and is generally understudied," explains McLaughlin, "Everything I learned about wetlands, I've learned on the job. I absolutely fell in love with them. Plus, it worked out especially well because my favourite animal is a salamander, so I get to work to support their habitat."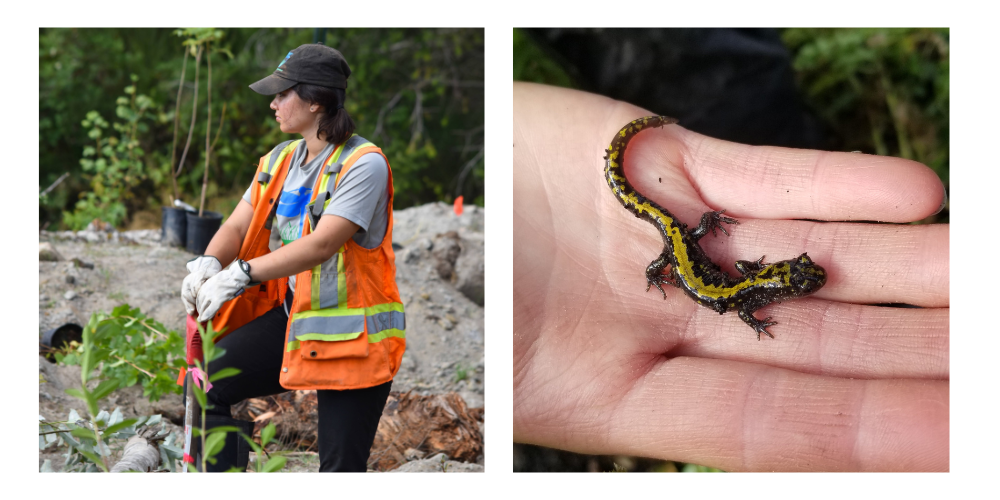 Left: Kendall overlooks a restoration site during a planting day on Quadra Island. Right- Kendall holds a long-toed salamander in their hand. 
Now a field technician specializing in wetland restoration for the BCWF's Wetlands Workforce, Kendall supports restoration projects in sites throughout Southwest B.C. They have helped support 12 projects in Vancouver Island, the Okanagan, Lower Mainland, Fraser Valley, and Strathcona. Supporting each site presents a unique set of challenges and opportunities for McLaughlin to hone their skills in wetland restoration and give back to the communities and wildlife that benefit from the habitat. 
"One really special moment this past field season was when we were at Gardom Lake, helping with the second phase of their wetland restoration. We got to connect with so many different people in the community," Kendall recalls fondly, "The Stewardship Society of Gardom Lake joined, and we engaged with Shuswap First Nation, and school kids too. It's so heartwarming to see everyone come together, and they were so thankful for the restoration work. The community made the planting, mulching, sourcing logs, and installing hydro poles a lot easier, with all their help."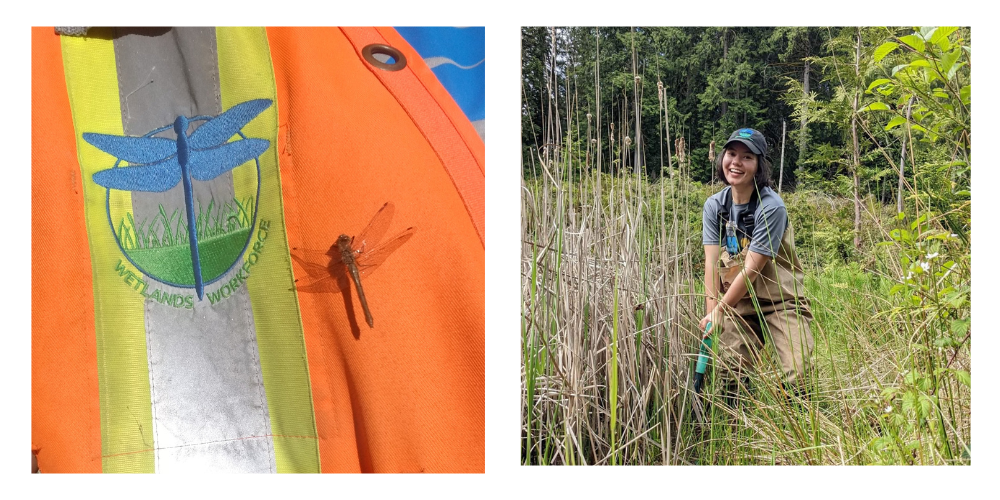 Left: a dragonfly poses next to the Wetland Workforce's logo on Kendall's safety vest. Right: Kendall happily works on a wetland site.
As someone early in their career, Kendall is excited to give back to other young conservationists looking to follow a similar path to them. They volunteer as a mentor for the UBC Tri-Mentoring program for the faculty of Forestry, hoping to reduce barriers for others looking to enter restoration and conservation spaces.  
"Even though I'm still very young in my career, I feel like it's important for me to be a mentor to others and show them how I got started in this field, and highlight the power of early career moves like volunteering. As a fellow young person, I'm a little more relevant to them than someone who is almost retired, because the world has changed a lot in the last few decades. I just try my best to share knowledge as a young professional."  
This article is the first instillation of the "Getting Their Boots Wet" series, which highlights diverse perspectives from the dedicated BCWF field staff.