A two-day in-person workshop to develop your hunting field skills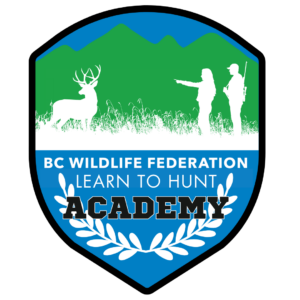 The BCWF Learn To Hunt Academy is an immersive hunter education program that will help you gain all the practical skills, knowledge, and confidence to be a safe and successful hunter in BC. Whether you're brand new to hunting or looking to further develop your hunter competencies, this workshop provides the opportunity to learn hands-on skills from local experts.
Join us for our very first Learn to Hunt Academy!
Location: Ridgedale Rod & Gun Club in Abbotsford (35606 Harris Rd, Abbotsford, BC, V3G1R7)
Date & Time: Sep 16 & 17, 2023, 8:00AM to 05:00 PM both days
Instruction Modules
Module 1: Understanding BC Hunting Regulations
This unit will cover some basic information that all hunters should know before setting out to hunt in BC. We will discuss how to use the hunting/trapping synopsis, important regulations, reporting requirements, buying licences, LEH, how to cut a tag, and more. We will also touch on the steps you need to complete before becoming a registered hunter in BC.
Module 2: Choosing a Place to Hunt
Once you have all your hunting credentials and licences, its time to select where and what you want to hunt. This unit will introduce you to several game species in BC and highlight what type of habitat you are likely to find them. Participants will then learn how to use various digital maps and resources to "e-scout" locations from your home. Finally, we will discuss tips for using maps and compass for navigation that are important to understand before heading out.
Module 3: Shooting Range - Shotguns
Head out onto the range to try your hand and shotgun target shooting. We will walk participants through how to safely handle a firearm, gauge selection, shotgun chokes and their applications, and then we will get shooting! Participants will have a chance to fire a shotgun and learn how to hit a moving target safely and effectively.
Module 4: Shooting Range - Rifles
Next, we will move to the rifle range and, again, learn how to safely handle a rifle, how to sight in a rifle, and best practices for shooting long range targets. Participants will have a chance to fire a rifle and discuss when and where to use different calibre rifles for various hunting applications. Participants are not required to have a firearms licence to take part in either of the shooting activities.
Module 5: Planning & Executing Your Hunt
You're now ready to get out in the field and get hunting! First, we will show participants different hunting strategies, discuss shot placement when lining up a shot on an animal, and walk through a real-world example of essential gear to pack for a hunt. We will have gear for participants to try out in-person to see what works best for everyone. Finally, we'll head outdoors and search the woods surrounding the Ridgedale Rod & Gun Club for animal sign. Participants will learn what to look for and how to interpret animal sign to better understand animal behaviour and their use of the landscape.
Module 6: Wilderness Safety & First Aid
If you're going to head out into the backcountry, there is essential safety information that you need. We will cover safety tips and best practices for avoiding injury, how deal with common field injuries if they do happen, and what to carry on remote trips into the wilderness.
Module 7: Field Dressing & Butchering A Big Game Animal
This can be one of the most intimidating aspects of beginning to hunt. Participants will learn through a hands-on demonstration how to field dress a big game animal, how to butcher yourself, and discuss the principles of proper meat care.