Our presenters
An exciting lineup
This year's presenters include political leaders, faculty from universities across North America, foresters, biologists and representatives from the BCWF. Topics range from forest and fisheries management to wildlife health; plus an exploration of the vital link between humans and the flora and fauna we share our wild spaces with.
Biographies
Keynote Speaker: Virgil Moore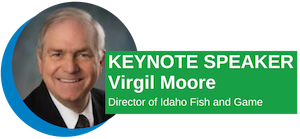 Virgil Moore has been Director of Idaho Fish and Game since 2011. His planned retirement is March 1, 2019 with over 42 years of service. Virgil was Director of Oregon Department of Fish and Wildlife from 2006-2007 before returning to Idaho in 2007 Deputy Director. Virgil started with Idaho Fish and Game in 1977 as a fisheries research biologist and has served in various leadership positions in Idaho including State Fisheries Manager, Fisheries Research Manager, Chief of Fisheries and Chief of Information and Education.
Virgil is currently Past President of the Association of Fish & Wildlife Agencies (AFWA) and is on Western Association of Fish and Wildlife Agencies (WAFWA) Executive Committee, Chairs WAFWA's Sage Grouse/Sagebrush Executive Oversight Committee and WAFWA's Bird Conservation Committee; He represents Idaho on the Western Governors Association Sage Grouse Task Force with Idaho's Office of Species Conservation and is past co-chair of Idaho Governor Otter's Sage Grouse Task Force. Virgil had been actively involved in ESA and states sovereignty issues related to wildlife management by the states.
Virgil received a BS Biology and Education from Northwest Missouri State University and a MS Zoology from Idaho State University.
Virgil and his wife Becky, two daughters and five grandchildren all enjoy outdoor activities together on a regular basis including whitewater boating, fishing, hunting, skiing, and photography.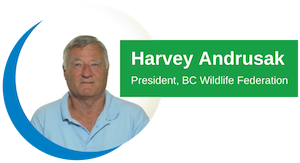 Harvey Andrusak is the President of the BC Wildlife Federation and has worked as a fisheries biologist for the province for nearly 35 years. A former Provincial Director of Fisheries, Harvey now is retired but still operates on a part time basis a freshwater fisheries management business, Redfish Consulting in his home town of Nelson, BC.
He specializes as a biological consultant in freshwater fisheries biology with expertise in large lakes related to kokanee, bull
trout and rainbow trout management. One interesting note of his career was having the good fortune to hire and work with BCWF Strategic Planning Director Al Martin throughout his career.
As the BCWF representative Harvey has also served on the Board of the Habitat Conservation Trust
Foundation (HCTF) for the last 15 years. He has been Chair of the Board for a number of years and currently is Vice-Chair. Harvey has represented HCTF at a number of BCWF AGMs.
Harvey's extensive experience in and outside of the provincial government provides the BCWF with some unique management and leadership skills that led to his elevation to the BCWF Executive five years ago. Most recently he has undertaken the role of BCWF President since July 2017. Harvey believes in team work and provides the BCWF with strategic direction on many of the issues that the Federation is dealing with.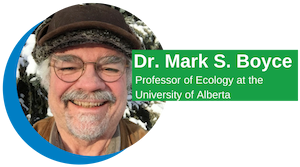 Mark S. Boyce is a professor of ecology in the Department of Biological Sciences at the University of Alberta and holds the Alberta Conservation Association Chair in Fisheries and Wildlife. He has been a professor for 40 years following a PhD from Yale University and a NATO Postdoctoral Fellowship at the University of Oxford. He has made major contributions to stochastic demography, population viability analysis, and habitat-selection theory. He has applied ecological theory to many of the world's most significant conservation issues. Research focus for field research is mostly on large mammals including elk, moose, bears, wolves, and cougars. He has published over 300 peer-reviewed publications and about 200 popular articles on conservation-related topics. He was elected to be a Fellow of both The Wildlife Society and the Royal Society of Canada. In November 2016 he was awarded the Mirowsław Romanowski Medal by the Royal Society of Canada for using science to resolve environmental problems.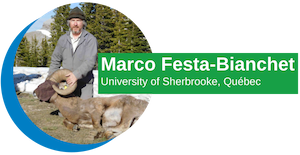 Marco Festa-Bianchet did his Ph.D. at the University of Calgary in Alberta, Canada, then a postdoc at the University of Cambridge, UK. He was hired as an Assistant Professor at the University of Sherbrooke in Québec, Canada, in 1990 and became a Full Professor in 1999. He is interested in how individual differences in size, age, sex, genotype etc., affect the evolutionary ecology and population dynamics of large herbivores. He currently working on bighorn sheep, caribou, and eastern grey kangaroos. he has previously worked with mountain goats, fallow deer, Alpine chamois and ibex. His research is based on long-term monitoring of marked individuals, ideally of known age and parentage. He has supervised or is currently supervising 36 MSc and 21 PhD students. He published 220 refereed scientific articles. From 2002 to 2006 he chaired the Committee on the Status of Endangered Wildlife in Canada. He was for 16 years (2001-2016) Chair of the Mountain Ungulate Specialist Group of the International Union for the Conservation of Nature.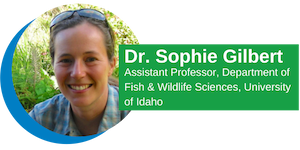 Dr. Gilbert is an a wildlife ecologist interested how animals respond to their changing environment, including animal behavior, population, and community ecology, as well as linkages between wildlife and humans.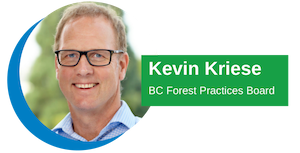 Kevin was appointed Chair of the Forest Practices Board in August of 2018.
Kevin has a Bachelor of Science in Forestry from UBC and a Masters degree in Natural Resources Management from SFU. Kevin entered the public service in 1992 with the Ministry of Forests and then worked in the Land Use Coordination Office, the Ministry of Sustainable Resource Management, and the Integrated Land Management Bureau. Before joining the Forest Practices Board, Kevin was Assistant Deputy Minister, Regional Operations, for the Ministry of Forests, Lands, Natural Resource Operations and Rural Development for the North Area.
For the past 20 years he has lived in Smithers, and worked primarily on projects in the areas of strategic resource management, First Nations engagement, and land use.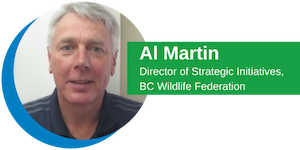 Alan (Al) Martin has extensive knowledge and experience of British Columbia's resource management issues from 30 years of experience in the BC Public Service serving in a number of Ministries.He was a government representative on the Board of Directors of the Freshwater Fisheries Society of BC and the Habitat Conservation Trust Foundation.
Alan Martin retired as Executive Director, Fish Wildlife and Ecosystems from the British Columbia Ministry of Environment in January, 2010, and served as a member at large on the HCTF Board of Directors as well as a representative for the BC Wildlife Federation BCWF. Mr. Martin is a consultant currently working for the on Strategic Initiatives for the BCWF. He resides in Victoria and is a keen angler, hunter and outdoorsman.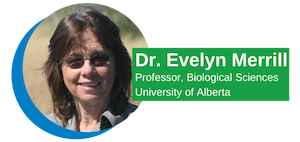 Dr. Evelyn Merrill (Evie) is a Professor in the Dept. of Biological Sciences at the Univ. of Alberta. She received her MSc from the Univ. of Idaho and her PhD from the Univ. of Washington. She has conducted research on Cervid foraging and habitat ecology for the past 40 years in a diversity of ecosystems across North America. She and her students' current research include a 16-year study of the trophic dynamics of a partially migratory elk population in the Rocky Mountains of Alberta, and spatial spread and population transmission of CWD in the prairies provinces of Canada. She is a Fellow of The Wildlife Society, served as President of The Canadian Section and the Alberta Chapter of The Wildlife Society, and is Canadian Section Representative to TWS. She served as Editor-in-Chief of the Journal of Wildlife Management. She was awarded the Alumnae Award from the University of Idaho, the Dedicated Service and the William Rowan Distinguished Professional Award from the Alberta Chapter of TWS, and the Wildlife Researcher Award from the Rocky Mountain Elk Foundation. Her hobbies include traveling, gardening, horseback riding and entertaining her grandkids.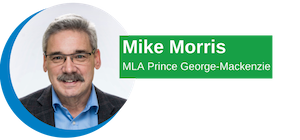 Mike Morris is a Canadian politician, who was elected to the Legislative Assembly of British Columbia in the 2013 provincial election. He represents the electoral district of Prince George-Mackenzie as a member of the British Columbia Liberal Party.
Morris has been chair of the Special Committee to Review the Independent Investigations Office, the convener of the Select Standing Committee of Crown Corporations, and has served on other Selected Standing Committees including Finance and Government Services and Public Accounts, along with the Cabinet Committee for Environment and Land Use.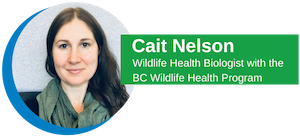 Cait Nelson is a Wildlife Health Biologist with the BC Wildlife Health Program, based in Nanaimo on Vancouver Island. She has been with the BC Government since 2006 and has been leading the BC Chronic Wasting Program for 8 years. Her work with CWD includes coordinating the regional and provincial working groups, staying connected with academia and other researchers to stay informed on new science around CWD and sharing that information with stakeholders, working with other jurisdictions to learn about management strategies and overseeing surveillance for the disease here in BC. Cait is dedicated to working with wildlife professionals, stakeholders, First Nations and the public to ensure that these groups have access to current and accurate facts on CWD and that wildlife in BC is not exposed to this disease or impacted by other health issues.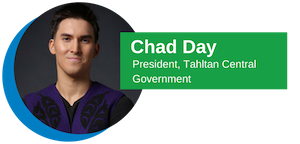 Chad grew up in Northwestern British Columbia between Smithers, BC and the Tahltan community where his father was born and raised in Telegraph Creek.
Like many Tahltan people, Chad grew up with both his parents being employed in the mining industry. During his years in university, Chad was primarily employed at mine exploration camps in Tahltan Territory.
Chad has a Bachelor of Arts in First Nation Studies and Political Science through the University of Alberta (2010), as well as a Juris Doctorate in Law from the University of Victoria (2014).
Shortly after his graduation from law school, Chad was nominated to become the President of the Tahltan Nation's central government and was resoundingly elected in the summer of 2014 shortly after his 27th birthday. This made Chad the youngest elected leader in Tahltan History.
Thereafter, Chad quickly lead his people through several successful negotiations with the Province, Industry and neighbouring First Nations. He also established several new departments within the central government and changed the name to what it is today – the Tahltan Central Government (TCG).
He has become well known for being a diligent, collaborative and creative leader that knows how to communicate effectively with multiple stakeholders as he has navigated through difficult issues facing the Tahltan people. He has spent considerable time improving governance and the communication that the TCG has within the Tahltan Nation and with others.
Chad was successfully re-elected in his second term as President of the TCG this past July and will be serving a three-year term until the summer of 2019. He loves working with the growing TCG team he has assembled and spends the majority of his time in Dease Lake, Smithers and Vancouver.
Although Chad takes enormous pride in his groundbreaking work as the President of the TCG, he is most proud of his role as an active and loving single father to his four children that reside in Smithers. He has three boys and a daughter who belong to both the Tahltan and Wet'suwet'en Nations.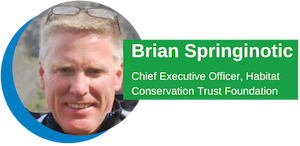 Brian Springinotic joined the Habitat Conservation Trust Foundation in 2004, becoming Executive Director in 2005.
Since joining the Foundation, he has led the organization through a transition from government agency to the current status as an independent not for profit charitable foundation. Prior to joining the Foundation, Brian started his working career in the forest industry and then moved on to a career with the provincial government, including several years in the conservation land management field as well as protected area policy, planning and management work. He has a degree in Resource Geography from UVIC as well as an Education degree from UBC.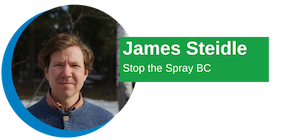 James Steidle grew up on a cattle ranch in Punchaw next to an aspen forest on Rosebud Mountain, worked at the now closed Clear Lake Sawmills for 4 years, and has treeplanted on and off for 20 years. He currently lives in Prince George where he operates a woodworking company building household products and millwork and works with aspen lumber wherever he can, which he mills on a small sawmill. He holds a Masters degree in Public Policy from SFU which he puts to work running the Stop the Spray BC campaign.
Description would be: This video-based multimedia presentation explores the importance of broadleaf and in particular trembling aspen, to the flora and fauna of our interior and boreal ecosystems, including its importance to trapping, hunting, and cattle ranching, as well as it's often overlooked natural forest fire resistance. It then explores the government requirements that this important forest type be severely restricted on crown land, with some exceptions only in the Peace District. To achieve this goal of broadleaf suppression, aerial glyphosate applications are relied on, which research now shows leads to long-term contamination of vegetation in our forests, which the public and wildlife are then exposed to. The presentation is a wake-up call to lovers of wildlife, foragers, hunter-gatherers, and urban folks who suffer the smoky consequences of forests that can be exponentially more flammable as a direct result of our narrowly-focused forest management decisions.
Dr. Andrew Weaver - Oak Bay-Gordon Head BC Green Party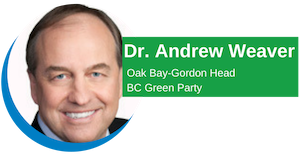 Dr. Andrew Weaver was elected as MLA for Oak Bay-Gordon Head on May 14, 2013 and re-elected in 2017.Prior to his election, he held the Canada Research Chair in climate modeling and analysis in the School of Earth and Ocean Sciences at the University of Victoria.
Dr. Weaver is a Fellow of the Royal Society of Canada, the Canadian Meteorological and Oceanographic Society (CMOS), the American Meteorological Society and the American Association for the Advancement of Science. In 2008, he was appointed to the order of British Columbia. Dr. Weaver has served on numerous national and international committees. He was a Lead Author in the United Nations Intergovernmental Panel on Climate Change 2nd, 3rd, 4th and 5th scientific assessments.
Community service has long been a part of Dr. Weaver's life. He created the school-based Weather Station Network involving the installation of weather stations at schools throughout Vancouver Island. He enjoys coaching soccer and has served on community boards such as the CRD Roundtable on the Environment and the Victoria Confederation of Parent Advisory Councils.
Andrew Wilkinson - Vancouver-Quilchena British Columbia Liberal Party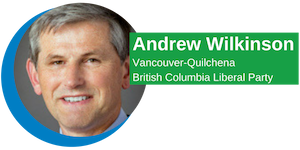 Andrew Wilkinson was re-elected MLA for the riding of Vancouver-Quilchena in 2017. He currently serves as Leader of the Official Opposition.
He previously served as Attorney General and Minister of Justice, Minister of Advanced Education, and Minister of Technology, Innovation and Citizens' Services. He is a former deputy minister of the British Columbia Ministry of Economic Development, where he had responsibility for economic issues, trade and tourism. He also served as deputy minister for Intergovernmental Relations in the Premier's Office for two years.
Prior to his election as MLA, Wilkinson worked as a lawyer in the Vancouver offices of a major national law firm. Prior to being called to the bar, Wilkinson was educated and licensed as a physician. He lived and worked as a doctor in Campbell River, Lillooet, and Dease Lake. He holds degrees from the University of Alberta, Dalhousie University, and Oxford University, where he attended as a Rhodes Scholar.
He has also served as president of the BC Civil Liberties Association, president of the BC Mountaineering Club, and president of the BC Liberal Party.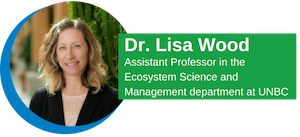 Dr. Lisa Wood is an Assistant Professor in the Ecosystem Science and Management department at UNBC, and a Registered Professional Forester in BC. She holds an MSc in Forestry from the University of Northern BC, and a PhD in Geography from the University of Victoria where she studied tree-ring anatomy and the growth of trees in response to climate change. Lisa's current areas of research include the impacts of climate change on forest productivity and wood anatomy, and the effects of chemical herbicides on plants in forest operations. Lisa's research on herbicides currently involves investigating the effects that persistent glyphosate residues have on plants and their surroundings. She teaches plant biology and ethnobotany at UNBC and has a keen interest in the connection between people and plants.
Presentation Title: Long-term glyphosate persistence in plants, what do we really know?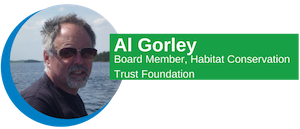 Al is a professional forester with 45 years experience spanning government and consulting. Born in Burns Lake, he lived in a variety of communities in the northwest while growing up, including Queen Charlotte City, Kitwanga, Terrace, and Prince Rupert. His early career saw him stationed in Houston, Lower Post, Ootsa Lake, and Smithers.
During a second stint in Houston as forest district manager, he also served as president of the Professional Foresters Association, and board chair for Northwest Community College. In 1994 he was appointed regional manager for the Prince George Forest Region, and for a while worked concurrently as executive director of Forest Practices Code Implementation.  In 1998 he moved to Victoria to take on the role of vice president for land and resources at Forest Renewal BC and was later promoted to chief operating officer. 
In 2002 Al started his own consulting firm and has since worked with a wide variety of industries, communities, and governments across the province, nationally and internationally on natural resource and management matters.  From 2004 to 2007 he served as president of the McGregor Model Forest and was a founding director of the Canadian Model Forest Network.  He is a past member of the Forest Appeals Commission and Environmental Appeals Board and was chair of BC's Forest Practices Board from 2010 to 2013.   Al joined the HCTF Board in 2018. When not in Victoria or travelling, Al will likely be found at the family cabin on Uncha Lake.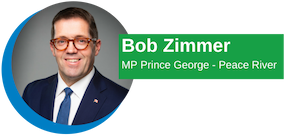 Bob was born in Dawson Creek, BC and raised in Fort St. John, BC. Bob began his career working for his father's family carpentry business where he learned the values of honesty, integrity, and hard work. Through these fundamentals, Bob obtained his Red Seal Journeyman Carpentry Certification and went on to own his own construction business.
He received an undergraduate degree from Trinity Western University in human kinetics and history/political science. Bob also obtained a bachelor's of education degree from the University of British Columbia. He worked his way through University as the head coach for Langley's TWU varsity rugby team. After graduating from the University of British Columbia, Bob moved back to Fort St. John where he taught for seven years and continued to work in construction, building several homes.
Bob was first elected as the Member of Parliament for Prince George-Peace River in 2011 and then re-elected as the Member of Parliament for Prince George-Peace River-Northern Rockies in 2015.
Bob was elected Chair of the Standing Committee on Access to Information, Privacy and Ethics in September 2017. He also serves as Chair of the BC/Yukon Conservative Caucus, Co-Chair of the Parliamentary Outdoor Caucus and Chair of the Canada-Austria Parliamentary Friendship Group.
Since coming into office, Bob has sat on several committees including the Standing Committee on Agriculture and Agri-Food, the Standing Committee for Natural Resources, Standing Committee for Veterans Affairs, and the Standing Committee for Procedure and House Affairs. He has also served as Vice-Chair of the Standing Committee on Human Resources, Skills and Social Development and the Status of Persons with Disabilities and Critic for Asia-Pacific Gateway.
Bob is a long-time member of the Fort St. John Sunrise Rotary Club, volunteers for many local events and organizations, as well as volunteers for and attends his local church with his wife Val and their four children Kristian, David, Tim and Bobbie.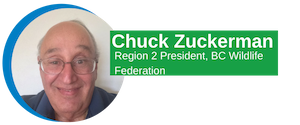 Chuck Zuckerman joined the BC Wildlife Federation and the Port Coquitlam Hunting and Fishing Club in 1977. He served continuously on the Poco Board of Directors since and was elected President for thirteen years. Chuck has served on the Board of Directors of the BC Wildlife Federation since 2015 and is the President of the Lower Mainland Region, Chair of the Jurassic Classic Committee and Chair of the Recreational Shooting Sports Committee.
Chuck has a varied background teaching at Simon Fraser University, working as a Business Agent on the Vancouver Waterfront, and teaching the PAL and CORE courses for over four decades. Chuck is an avid hunter, angler, and competition shooter. Most recently Chuck was invited to present the BCWF's concerns regarding Bill C-71 to the Canadian Senate.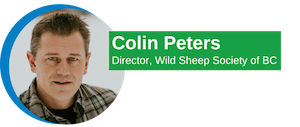 Colin grew up in a city suburb of Vancouver. Self-employment in the construction industry opened the doors to move into the film industry. While not having the advantage of hunting and fishing in his immediate family, Colin was drawn to the wilds of British Columbia. For the early years his experience of the outdoors was via motor sports, but soon was attracted to the backpacking and hiking adventures that our great province provides.
As his experience and fascination for the outdoors grew he recognized the need to give back to the outdoors he loved. Joining the Wild Sheep Society of British Columbia was a logical move. Wild Sheep Society of British Columbia has created a campaign to educate the general urban public and with his urban experience and home he saw a huge void that need to be filled. The campaign, 1 Campfire was created to 'Regain the Hunting Narrative'. For as long as the human race has existed we have been hunters and gathers. Even in modern society we source our food supply and gather what we believe to be the best options for us.
"Welcome to our campfire we have a story to tell"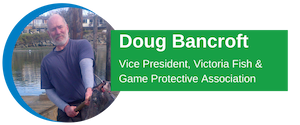 Douglas Bancroft has lived in, camped in, or travelled to every province and territory in Canada. His hobbies include hunting, fishing and recreational shooting sports. He is currently the 1st Vice-President of the Victoria Fish and Game Protective Association, and co-chair of the BCWF RSSC.
Doug has been married to Eileen for 38 years, and together they raised two successful adult children; and are impatiently waiting for grand children.  He was also a Scout Leader for 25 years; and believes strongly in developing opportunities for youth to enjoy Canada's great outdoors.
Doug served for 32 years as a scientist, including Director of Marine and Ice Services in Environment Canada, Director of Oceanography and Climate Science in DFO, and Director General of the Canada Center for Remote Sensing.  He is currently the President and CEO of the Canadian Scientific Submersible Facility, and an instructor at the University of Victoria.
Doug also served of the Royal Canadian Navy (reserve) for thirty-eight years.  He has commanded six HMC Ships for various periods.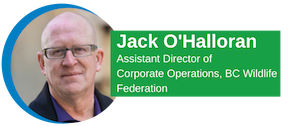 Jack OHalloran is an Operations/Team Building Specialist with a significant record of achievement in the areas of strategic planning, brand development, operations management, project management, guest focused training and management development with leading domestic and international organizations, focusing on helping organizations to increase operational effectiveness in ways that increase their profitability by joining his unique expertise and experience with the organization's strategic goals.
For the past year and a half Jack has been sharing his passion of the outdoors to change the face of our province by working with the BC Wildlife Federation as the Assistant Director of Operations. Thru program development, advocacy and relationship building skills honed over the years Jack serves the hunter, fisher and conservation communities in our beautiful province. Jack presently sits on the IHEA Canada Board of Directors, and the Public Conservation Assistance Fund Board.
Previously, Jack served as the Director of Business Development for United We Can, a non-profit organization working with Binners on the DTES, to legitimize binning, and share the environmental impact of recycling in one of the poorest postal codes in Canada.  Jack has held roles such as the Director of Operations of the Vancouver Whistler Games Network in partnership with VANOC and the 2010 Winter Olympics.    Jack has spent most of his time in the 5 years leading up to the Olympics travelling all over the world studying Major Events Outreach and working alongside Official Organizing Committees.  Prior to this Jack spent 20 years in management specializing in operations, purchasing, negotiations and business development. Jack is married to his wife Anne and has 2 children Zachary 20 and Emma 18.  The family resides in Tsawwassen BC.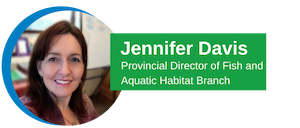 Jennifer Davis is the Provincial Director of Fish and Aquatic Habitat Branch with the BC Government. With a degree in Ecology and a masters in leadership, she has worked in the BC government for over 25 years managing in Forestry, Agriculture, Major Projects, Tourism and Land Use Planning. Fish and aquatic habitat are an integral part of B.C.'s healthy ecosystems and our economy. Jennifer is delighted to support improved effectiveness in cross-Agency management along with improving delivery of the delegated authorities to BC under the Federal Fisheries Act and our own legislation.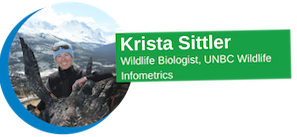 Krista grew up in Fort Nelson, BC where she developed a passion for the north along with hunting and fishing.  She pursued a Biology degrees (Hons) at the University of Victoria and spent the summers fighting fire in Fort Nelson.  This is where she learned about the Peace-Region Prescribed Burn Program. In 2010, she started her Master's degree at the University of Northern British Columbia focused on the short-term influence of prescribed fire on Stone's sheep and elk in the Besa-Prophet.
After she finished her degree she began working as a wildlife biologist for a small consulting company, Wildlife Infometrics, and went back 7-years post burn (2017) to examine the longer-term influence of fire on these two species.  Current research focus includes limiting factors for moose in the Williston Basin and caribou response to extensive habitat alterations in the Chase herd.  She currently resides in Prince George.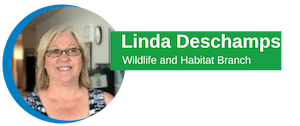 Linda Deschamps has been with the Wildlife and Habitat Branch since 2005, with a small break in- between 2014-2016 to work with FrontCounter BC doing Park Use Permits for BC Parks. She has been part of the Data and Licensing transformation project team since 2016. Linda is looking forward to her continued participation on the data and licensing transformation project and doing her part in assisting the residents of B.C. with their hunting needs.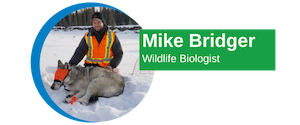 Mike Bridger has been working as a Regional Wildlife Biologist for the provincial government in the Peace Region for four years. His focal species for work include moose, Stone's sheep, mountain goat, caribou, and wolves. More recently, he has focused his efforts towards wolf research and implementing predator control programs to support the recovery of woodland caribou.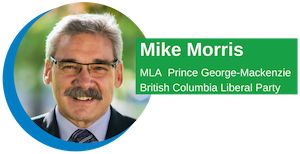 Today, Mike uses his extensive knowledge from his prior experience as an RCMP Officer and Minister to lead a critic role on Public Safety and Solicitor General for the Official Opposition. He has also been appointed to the Select Standing Committee on Parliamentary Reform, Ethical Conduct, Standing Orders and Private Bills and the Special Committee to Appoint a Conflict of Interest Commissioner.
Previously, Mike served as Minister of Public Safety and Solicitor General, and Parliamentary Secretary to the Minister of Forests, Lands and Natural Resource Operations. Mike has also been the chair of the Special Committee to Review the Independent Investigations Office, the convener of the Select Standing Committee of Crown Corporations, and has served on other Selected Standing Committees including Finance and Government Services and Public Accounts, along with the Cabinet Committee for Environment and Land Use.
Before being elected to the B.C. Legislature, Mike had a 32-year career in the RCMP, retiring in 2005 as the Superintendent for the North District. Mike has also been an adjudicator and mediator with the Health Professions Review Board, has served on the Drug Benefit Council for BC since 2009, and is the Past President of the BC Trappers Association.
Mike has lived in Prince George for nearly two decades, and spent the majority of his RCMP career in northern communities. He and his wife Chris have been married for more than 35 years. They have two sons and five grandchildren.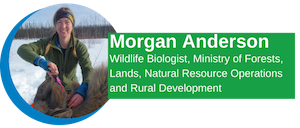 Morgan is a regional wildlife biologist with the BC Ministry of Forests, Lands, Natural Resource Operations and Rural Development for the Omineca Region, based in Prince George. She is currently involved in several HCTF-supported projects in the region including moose survival, wolf predation, and goat inventory. Before joining the Omineca wildlife team in 2016, she was the Government of Nunavut's regional wildlife biologist for the High Arctic Region.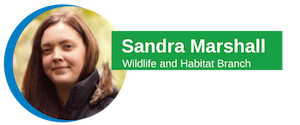 Sandra Marshall has been with Wildlife and Habitat Branch for the past 3 and a half years and has spent a significant amount of time working on the data and licensing transformation project.  Sandra looks forward to continuing to contribute to the transformation project team and to delivering an improved and modernized licensing system to hunters in BC.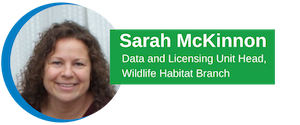 Sarah McKinnon has been the data and licensing unit head with the Wildlife and Habitat Branch for 5 years.  She has a degree in mathematics and environmental science, and has worked with managing the collection, analysis and reporting of data for over twenty years.  Sarah is excited to be working on the data and licensing transformation project, to support the continued improvement of Wildlife and Habitat Branch services.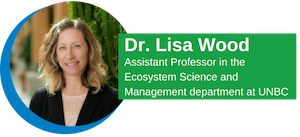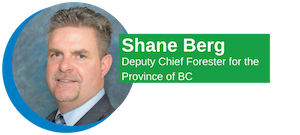 Shane Berg is the Deputy Chief Forester for the Province of BC and also has an Executive Director role with the Office of the Chief Forester with the Ministry of Forests, Lands, Natural Resource Operations and Rural Development. (FLNR) Shane obtained his BSc. in Forestry from the University of Alberta and has more than 30 years of experience working within BC's Public Service.
Shane is a Registered Professional Forester (RPF) and has worked throughout the province, beginning as a Silviculture Technician in Invermere, a Silviculture Forester in Grand Forks, a Forest Planning Manager in Squamish, and eventually took on District Manager roles over a span of 14 years with the BC Forest Service in Northern BC (Hazelton) and the Southern Interior (Kamloops). He spent six years working as a Regional Executive Director with the Ministry of Aboriginal Relations and Reconciliation until he returned to FLNR as the Deputy Chief Forester in April of 2017.
The mantra for the Office of the Chief Forester is "Caring for BC's Forests"…and Shane believes that it has never been more important that we manage our forests in a sustainable, science-based manner, considering the many changes that this important resource is facing.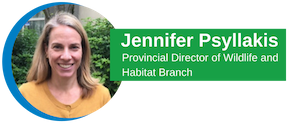 Dr. Jennifer Psyllakis has worked for the Province of BC since 2007 and has been in her current position as the Director of Wildlife and Habitat since January 2017. She previously held various program and leadership roles in habitat management and natural resource sector policy, including development of the Environmental Mitigation and Cumulative Effects Framework Policies. Jennifer completed her PhD in Natural Resource Management, MSc in Biology and undergraduate degree in Wildlife Management. She is a current board member of Wildlife Habitat Canada, a Public Advisory Committee for Royal Roads University, and previously held executive positions with the Canadian Section of The Wildlife Society. In her spare time, she is kept busy by her young daughters in the outdoors as much as possible!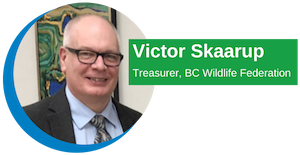 Victor (Vic) Skaarup has served on the board of directors of the Victoria Fish & Game Protective Association for the past six years with the last five as Treasurer. Having served on the Board of the Directors for the BC Wildlife Federation since September of 2015, Vic was appointed Treasurer of the Board of Directors in September of 2017 after the resignation of the last Treasurer.
Currently the Chair of the Finance Committee, Vic has volunteered his time in this area for two years as well. Vic is the Chair of the Recreational Sports Shooting Committee since its establishment in 2015.Vic's experience comes from his Masters Degree in Public Administrationand Bachelor of Arts in Economics. He is a seasoned Chartered Professional Accountant, Certified General Accountant and Certified Financial Planner. Vic lives on Vancouver Island and his happily married to his wife Maggie.