Today marks the National Day for Truth and Reconciliation. Today and every day, we honour the Survivors of Canada's residential schools and children who never returned home, along with their families and communities. Reconciliation is an active and lifelong process; public commemoration of the tragic and painful history and its ongoing impacts is an essential part of that process.  
Residential schools operated for over 160 years, with the last school having closed in 1996 in Saskatchewan. Upwards of 150,000 children and youth were taken from their homes and communities and placed in federally-funded, church-run schools. At the institutions, children were forced to abandon their traditions, cultural practices, and language. Residential schools were a tool of state-sanctioned cultural genocide against First Nations, Inuit, and Métis peoples.  
Hear Chief Dr. Robert Joseph, OC, OBC., of Gwawaenuk First Nation, speak about his time spent in a residential schools and the impacts of the schools on Indigenous communities in Canada:  
The Truth and Reconciliation Commission of Canada (TRC) was established following the Indian Residential Schools Settlement Agreement, the largest class-action settlement in Canadian history. Beginning in 2007, the TRC heard from over 6,500 witnesses and hosted seven national events across Canada to educate people about the history and legacy of this devastating system. Additionally, more than five million records were collected and preserved to document the residential school system.  
The TRC held its closing event in Ottawa in June 2015, presenting their multi-volume final report. In this report, was the Truth and Reconciliation Commission's 94 Calls to Action, detailing necessary and important actions to further reconciliation between settlers and Indigenous peoples in Canada.  
We encourage all BCWF members, followers, and supporters to join us in honouring the children who never returned home from residential schools, Survivors, and their communities. We implore our supporters to dedicate today to reflecting on the history and legacy of residential schools and join us on a lifelong journey of reconciliation and decolonization. Don't forget to show your support to the Indigenous communities whose land you live, learn and play on by wearing an orange shirt. 
BCWF Working Towards Reconciliation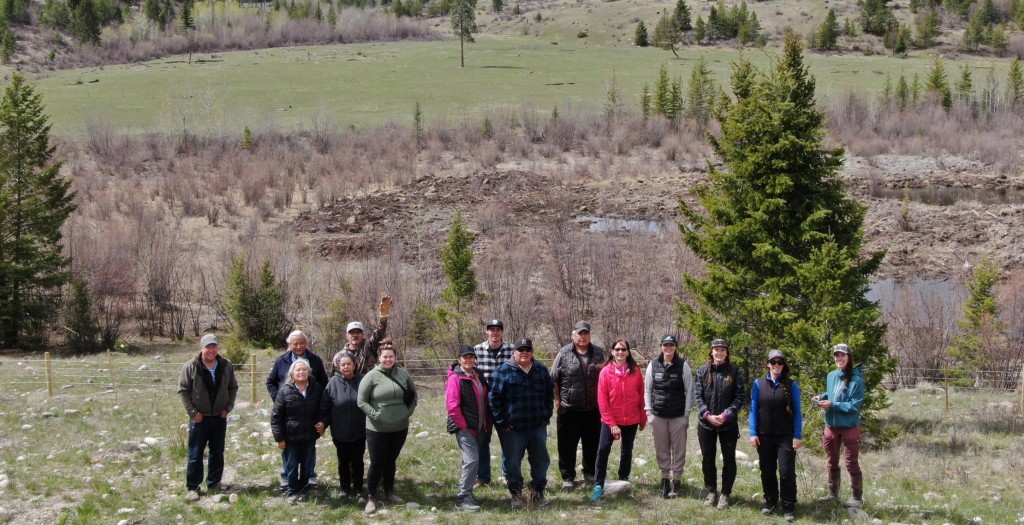 Shuswap Band Elders and Wetlands Workforce team members tour the recently renamed Sqlewu̓le̓cw wetland site.
The BCWF is committed to working to continually integrate reconciliation efforts into all facets of our work, from in-office training to on-the-ground restoration efforts. A key focus on our projects is meaningful Indigenous engagement and collaboration with Indigenous-led organizations. Whenever possible, each of our projects and workshops engage with local Indigenous Elders, youth, and community members; we are immensely grateful for the exchange of knowledge facilitated by our conservation work.  
Earlier this week, the BCWF was honoured to support the Shuswap Band's  renaming ceremony and event for Sqlewu̓le̓cw, formerly known as SunCreek. In the fall of 2021, the BCWF and the Nature Trust of British Columbia constructed restored wetlands at the site. This past June, the Ministry of Land, Water, and Resource Stewardship attempted to return beavers to these wetlands.
Sqlewu̓le̓cw, the new Secwepemc name, translates to "Beaver Creek". Shuswap Elders chose the name following their initial visit to the site. The renaming ceremony, held on September 28th, included Shuswap Elders sharing opening and closing prayers as well as their process for renaming the site, in addition to Shuswap youth dancing ceremonially, as well as other celebrations.
This act of reconciliation honours and acknowledges the Shuswap Band as stewards of this land for time immemorial. We celebrate alongside their community in embracing this new name, which reflects the rich cultural and ecological history on the land.  
Although we are proud of the relationships formed and the connections we have made through our efforts to protect, conserve and enhance B.C.'s fish, wildlife and habitat, we acknowledge that there is always more work to be done. The BCWF is committed towards building trust and bettering relationships with First Nations, Inuit, and Métis communities going forward.  
"The significance of water is that it is a very healing element and is the essence of who we are as Indigenous people as well as non-Indigenous people[…] It's really significant for me to be out here and participate because it's a really big part of my culture. It is everything I have been taught about who I am, and that I am not different from the land and the land is not different from me. We are just the same." — Kiana Medicine Crane, Lower Kootenay Band