Regional Travel Advisory
Outdoor enthusiasts planning recreational trips within B.C. should check in advance for travel advisories in any region they want to visit. There have been advisories of restrictions to non-essential travel until the province enters Phase Four of the COVID response. 
The BCWF supports the rights of remote communities to protect themselves from COVID-19. At this time, the Provincial Health Officer has not expressed concerns about outdoor recreation which does not occur close to small communities. 
If you are denied access to Crown land as you recreate during this pandemic stage, please follow our access safety protocols. A professional, respectful approach to dealing with Crown land access is key to making sure reconciliation can move forward for all British Columbians.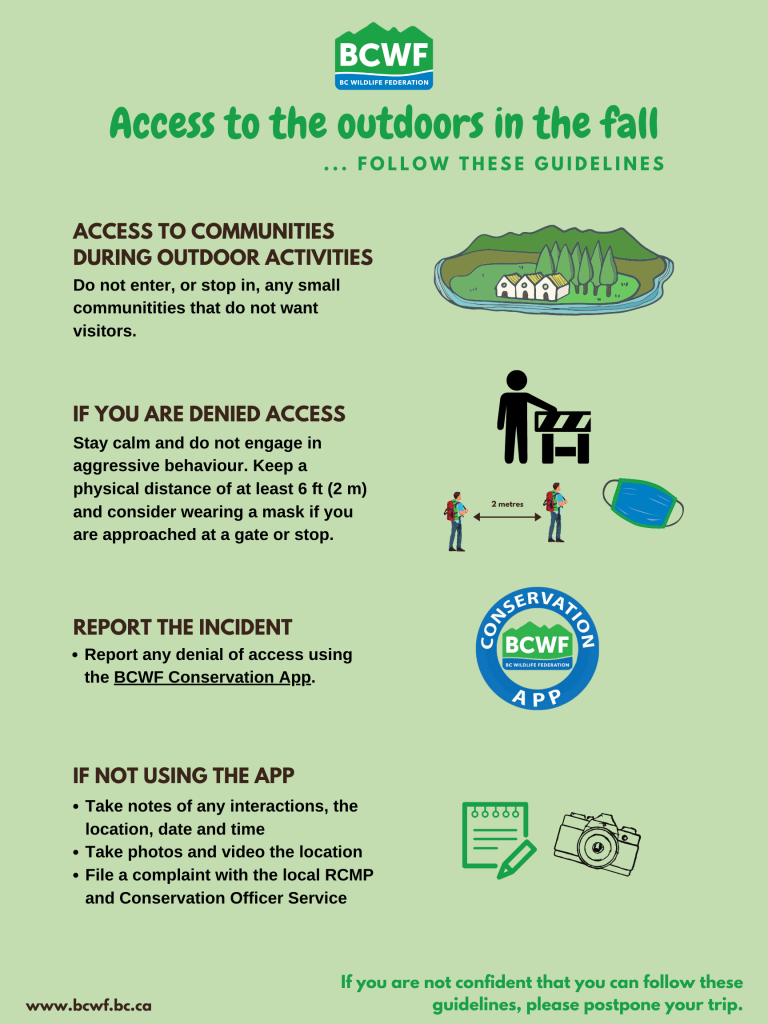 Download the info graphic: Access to Outdoors Guidelines Fall 2020
First Nations communities, title lands, and Indian Reserves are considered private property and, as such, cannot be entered without permission. However, Crown land outside of First Nations private lands is open for all British Columbians, and the public should not be denied access to it. This includes areas that are identified as "traditional territory". A First Nation's traditional territory is the geographic area identified by a First Nation as the area of land which they and their ancestors occupied or used. Many of these areas may be shared with other First Nations. All land in B.C. is within the traditional territory of one or more First Nations. Further, most access points to Crown land, or traditional territory, used for outdoor recreation purposes are in remote parts of the province, well-removed from communities. 
The B.C. Wildlife Federation has many similar concerns to those of Indigenous groups when it comes to the state of B.C.'s fish, wildlife populations. We work with Indigenous partners across the province to rebuild fish and wildlife populations and restore wetlands and habitats. The BCWF's mandate is also to ensure public access to recreational and outdoor activities, fish and wildlife resources and Crown land. 
We have all heard the statement, "What are we doing?"  
In the case of hunter heritage, that someone should be you! Please contact your MLA about these access issues.  
The BCWF will continue to support public access to public resources vigorously and will take steps to address attempts to restrict British Columbians from recreating in their home province. 
BCWF president Bill Bosch has written to Premier Horgan to request that the provincial government intervene in any potential denial to accessing Crown land in traditional territories.