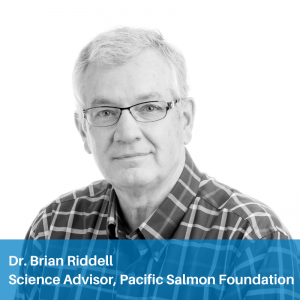 Prior to joining the Pacific Salmon Foundation, Brian worked for 30 years in salmon research and management with Science Branch, Department of Fisheries and Oceans; where he co-authored Canada's Policy for Conservation of Wild Pacific Salmon (2005), and provided science advice to the Pacific Salmon Treaty.  Brian joined the Pacific Salmon Foundation in 2009 as President/CEO. Since joining, he established the Salish Sea Marine Survival Project and the research network (www.marinesurvivalproject.com). Brian retired as CEO/President of PSF on March 31, 2019 and will remain as a Science Advisor through 2021.
Brian is also a Commissioner for Canada to the Pacific Salmon Commission and has served as a member of the Royal Society of Canada's Expert Panel on Ocean Climate Change and Marine Biodiversity; was a member of the Province of BC's Minister of Agriculture's Advisory Council on Finfish Aquaculture (2018), and mostly joined the Board of Directors for the new Salish Sea Institute, Western Washington University.
In 2018, Brian was awarded the Murray Newman Award for Marine Conservation (Vancouver Aquarium), was inducted into the Fraser River Hall of Fame, and received the Larry Rutter Award for contributions to the Pacific Salmon Treaty.